New for Spring 2012.............
.....3 Dynamic New Roundabouts
The Oyster, Large Dish and Runaround are all based around a new 1.5m diameter dish format and the unique Sutcliffe Play rocking bearing.
With a fully hot dipped galvanized frame for total corrosion protection and a completely maintenance free bearing, they provide excellent play value for children of all ages and abilities.
Oyster - SWD550
Incorporating a large shallow dish and a flat seating platform, the Oyster can be a fast dynamic activity for older children or used as a social meeting point.
With the rocking bearing providing much more play interest than a simple roundabout, for younger and less able children it can provide a supportive environment where a more gentle motion can be introduced. The flat platform is also advantageous to aiding access in and out of the dish.
Environmentally friendly, the seating platform on the Oyster is made from 100% recycled pots and plastic bottles re-moulded into a hardwearing multi-coloured panel
Large Dish - SWD500
One of our most inclusive items just got better and we now have an even bigger version of our popular dish roundabout.
This new larger format provides more space for more children to play, and the angle of the dish and its height makes it an ideal inclusive item with side transfer being made very easy, minimising the lifting required by helpers.
Suitable for the most demanding locations as well as natural play spaces, this new dish roundabout is tough and fun.
Runaround - SWD600
Supplied with a flat play surface and a bearing fixed at 4 degrees this roundabout gives a different play experience. Aimed more for older children, the flat surface provides balancing challenges as well as a great social space
With a flat surface coated with a soft durable Polyurethane, the anti slip surface is great for just sitting and talking as well as for standing, rotating & balancing. Its durability makes the Runaround ideally suited for a busy play space.
As it is fixed at an angle the Runaround can only go as fast as the children using it, so there is no need for a restrictor.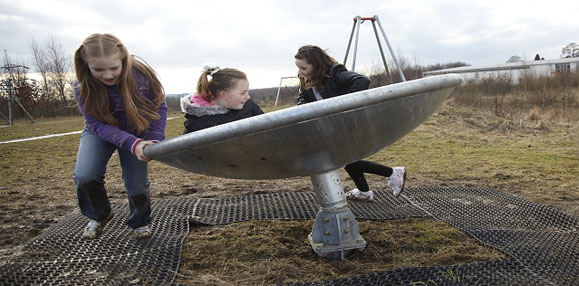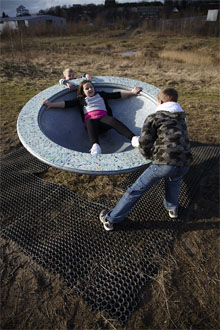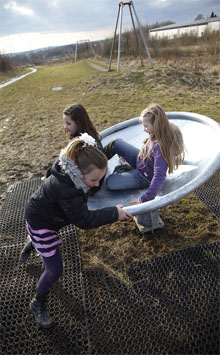 Swings & Roundabouts:
Rotators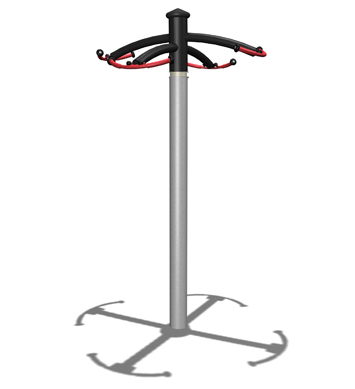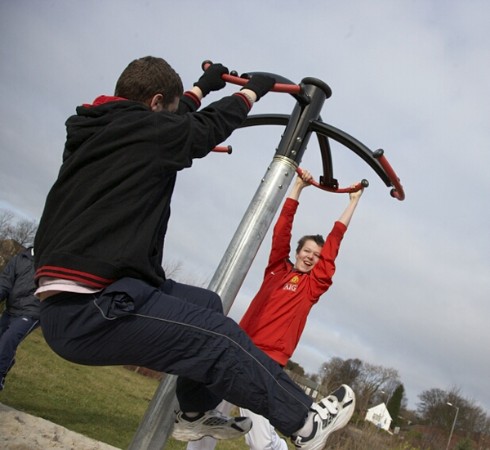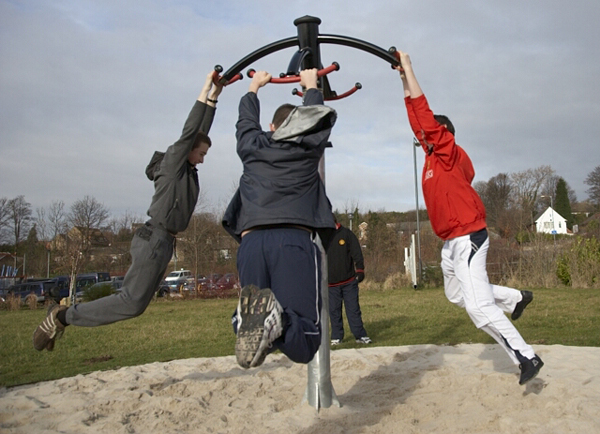 Quad Flyer
SWD350 Quad Flyer
The Quad Flyer is a fast moving, dynamic product aimed at teenagers. This product has four user stations encouraging social interaction. Children can work together to produce a range of diverse movements which strengthens the upper body.
| | |
| --- | --- |
| HIC 1 m | |
| Area | |
| Perimeter | |
| | |
| --- | --- |
| Total Height | |
| Grip Height | |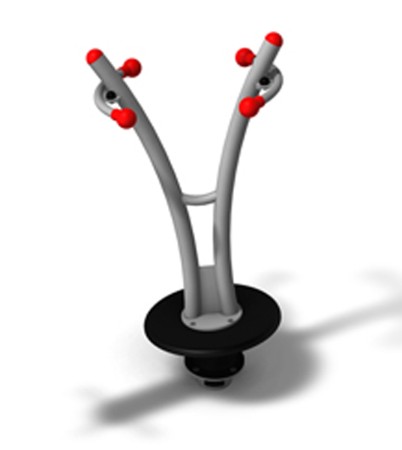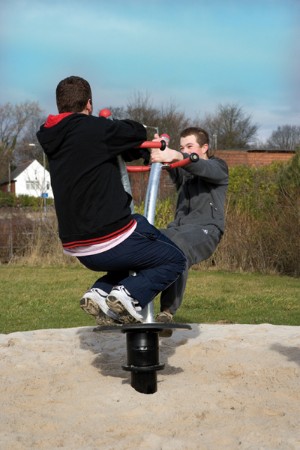 Rock Spinner

SWD300 Rock Spinner
The Rock Spinner is a dynamic piece of playground equipment which rotates and rocks on a central axis. The product can be used by one or two children, aged 6 years and older.
| | |
| --- | --- |
| HIC 1 m | |
| Area | |
| Perimeter | |
| | |
| --- | --- |
| Total Height | |
| Foot Height | |
| Grip Height | |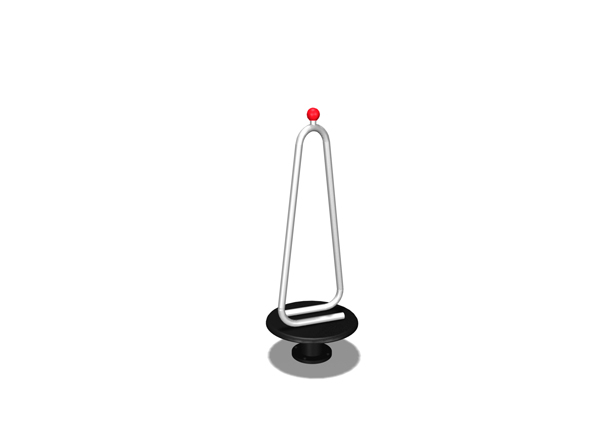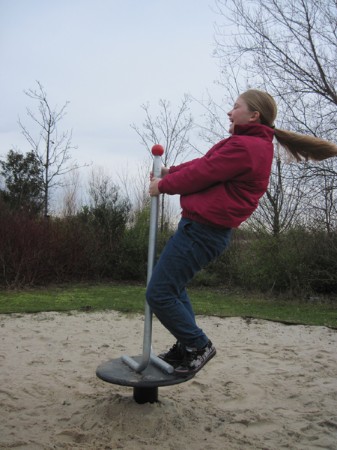 Cherry Twist
SWD380 Cherry Twist
A new twist on a popular theme and a contemporary design for modern playgrounds. Low in cost and compact, ideal for small spaces and tight budgets. No safety surfacing required with a high play value for up to 3 children, incorporating a non slip, rubber covered safety standing surfacing. A maintenance free, long life finish with sealed bearings. Fully compliant with EN1176.
| | | |
| --- | --- | --- |
| Complete | - No Additional Activities Listed | |
| | |
| --- | --- |
| HIC 1 m | |
| Area | |
| Perimeter | |
| | |
| --- | --- |
| Total Height | |
| Deck Height | |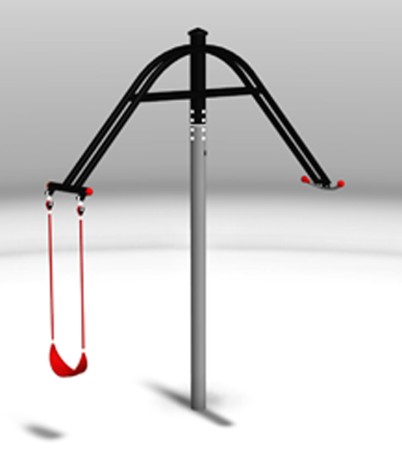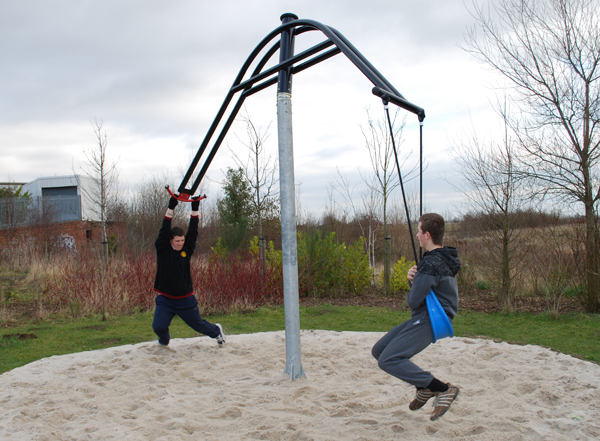 Sling Shot
SWD400 Sling Shot
The Sling Shot is a large, dynamic, sweeping seesaw, offering the user two different types of movement: a rocking movement and the traditional up and down tilt. As this product can accelerate to high levels of speeds this item is better suited to older children.
| | |
| --- | --- |
| HIC 2 m | |
| Perimeter | |
| Area (Circular Shaped) | |
| Area | |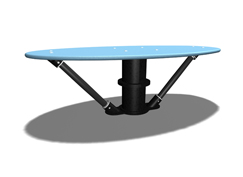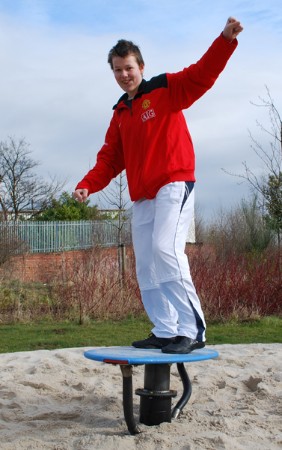 Wipe Out
SWD450 Wipe Out
The Wipe Out has been designed for children aged between 8-15 years old. This product requires good balance and co-ordination skills from the users. Wipe Out is an excellent product for encouraging social interaction.
| | |
| --- | --- |
| HIC 0.5 m | |
| Area | |
| Perimeter | |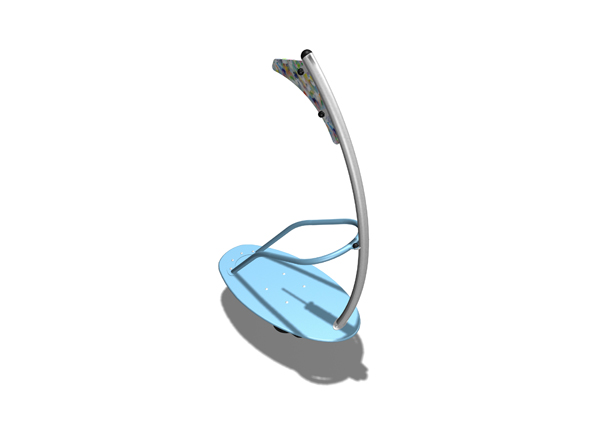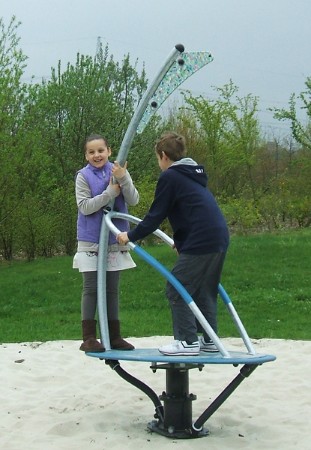 Wind Rider
SWD480 Wind Rider
This inclusive, themed product encourages young children to develop their balancing, co-ordination and social skills. The surf board platform has been finished with a slip resistant coating and sits on a rocking bearing allowing a controlled range of movements. The handle provides the user with support and as they mount and dismount the item.
| | |
| --- | --- |
| HIC 0.5 m | |
| Area | |
| Perimeter | |
| | |
| --- | --- |
| Total Height | |
| Platform Height | |