Trampolines for kindergartens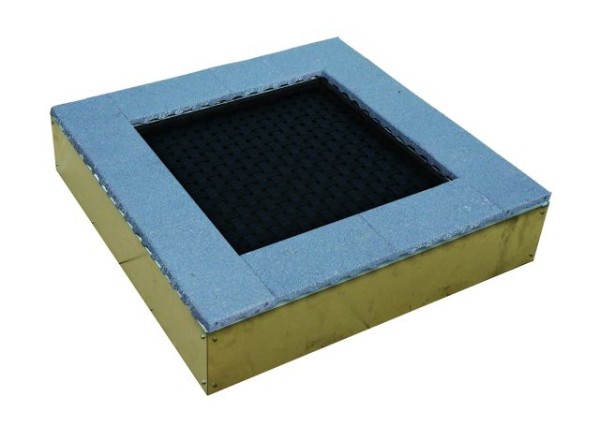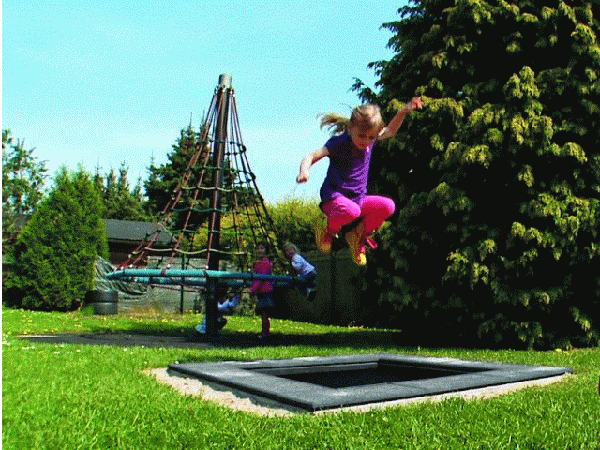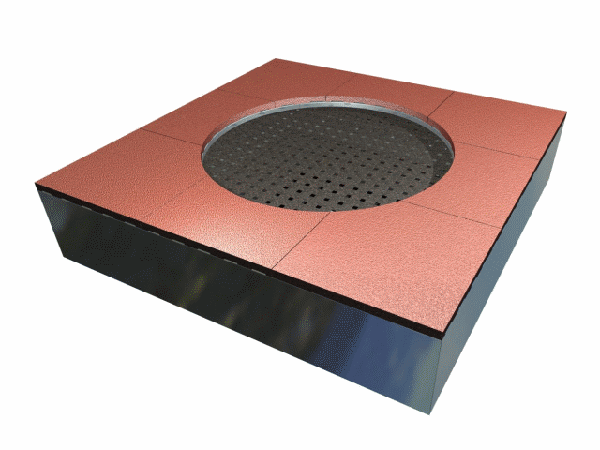 Playground trampoline: Kids Tramp "Playground" / "Kindergarden"
Article No.: 97000 - 97110
Trampolines belong to the most attractive leisure-time apparatus and exercise the highest attraction on children, youth and adults. Because they officially count as sports apparatus, they should always be used under supervision. This cannot always be guaranteed at publicly accessible playgrounds, hence the reason why Eurotramp recently developed a ground trampoline that conforms to the playground device standard DIN EN 1176 and therefore does not require supervision. It consists of a highly stable, hot-galvanized frame construction with performance level adapted to children type of needs.

We offer two versions of the Kid Tramps:

Model "Playground"
for the unattended and freely accessible playground area with high vandalism safety by means of a bed made of wire reinforced belt fabric (UV light- and weather resistant)

Model "Kindergarden"
for kindergartens and other facilities with inspected access, jumping bed made of PVC-coated lattice fabric (UV light- and weather resistant).

Both versions can be equipped with either bonded impact protection or the blue frame padding. But for the freely accessible area we strongly recommend bonded impact protection whereas for the inspected area you can use or bonded impact protection or the blue frame padding.

For a short time now we also offer a round version of our Kids Tramp which is called Kids Tramp "Loop". This playground trampoline can also be obtained or with black jumping bed made of wire reinforced belt fabric or with yellow PVC-coated jumping bed. The quality is the same as of the square versions of the Kids Tramp, only the design is different. If you have any questions, just ask our employees of the sales department!
Frame: Rectangular tube 150 x 150 x 30 cm made of special steel; hot dip galvanized

Depth of the pit: 30 cm; 50 cm under the jumping area

Jumping bed (107 x 107 cm) with 36 steel springs (length 145 mm, Ø 20 mm)

Frame padding: or bonded impact protection (10 pieces) or frame padding made of high quality PE foam (max. 3% water reception) and robust PVC-covering (not included in delivery)
Kids Tramp Loop: only bonded impact protection available (8 pieces)

Total weight: 113 kg

Models

item 97000 Kids Tramp "Playground" / B 105,600.-
item 97010 Kids Tramp "Playground Loop" / B 114,500.-
item 97100 Kids Tramp "Kindergarden" / B 101,350.-
item 97110 Kids Tramp "Kindergarden Loop" / B 109,900.-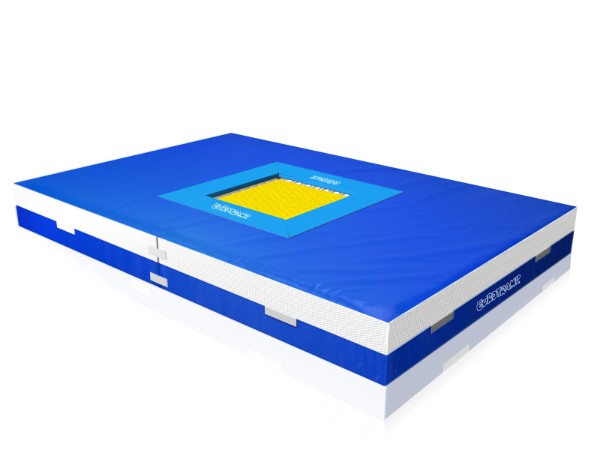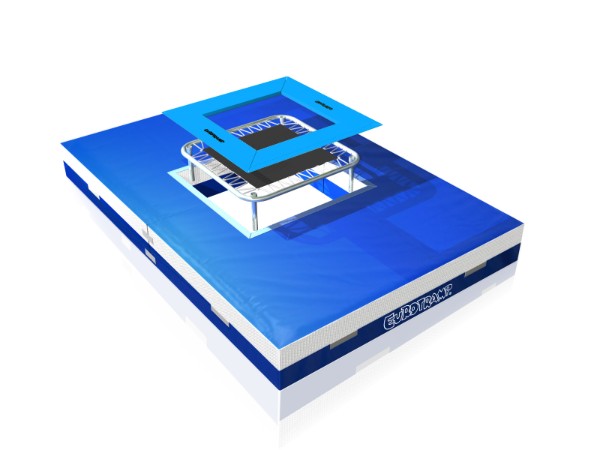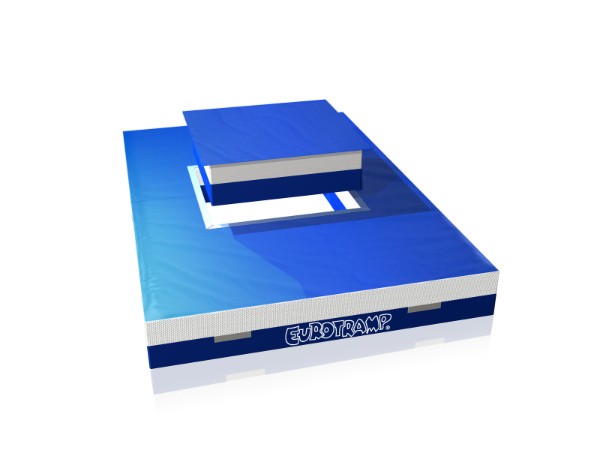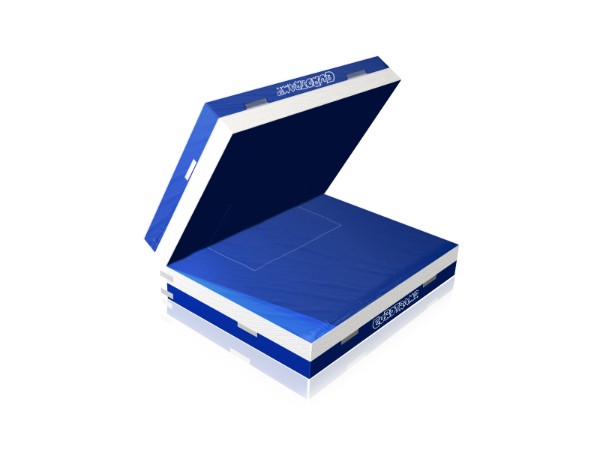 Trampoline: Mats Tramp
Article No.: 91000 / 91010
The all new Mats Tramp was designed by Eurotramp especially for kindergartens and day care facilities. With respect to form and function this trampoline meets exactly the special needs of the above mentioned facilities, thus it can be integrated perfectly into already existing types of play.

The trampoline is mounted at grade into a big gym mat which prevents any accidental jumps or drops on to the hard ground. The characteristics of the jumping bed are perfectly secure adapted to a child's needs. The cover of the elastic cable which replaces the springs for security reasons is attached to the gym mat by high quality velcro and to the jumping bed by rubber cable. There's no possibility for a child to reach underneath the trampoline.

The gym mat was designed foldable for better stowage and easy transportation. If required the Mats Tramp can also be used as a simple gym mat by simply removing the trampoline and replacing it by a small mat of the exact dimensions of the inner cavity. The Mats Tramp is easy to handle for anyone and converted into a simple gym mat in only a few seconds.
| | |
| --- | --- |
| Gym mat | 300 x 200 x 30 cm, high quality foam; trampoline is attached to the surrounding mat by durable velcro |
| Trampoline frame | Round pipe 100 x 100 x 27 cm (l x w x h), special steel, galvanized |
| Mounting feet | Round pipe, special steel; detachable (4 pcs); galvanized, with suction cups |
| Jumping bed | 73,5 x 73,5 cm, optional qualities: polypropylene, PVC-coated mesh |
| Attachment of jumping bed | Elastic cable (Ø 11,4 cm) |
| Frame padding | Shock absorbing and tough frame covering cushion, attached to jumping bed by rubber cables |
| Weight | 60 kg (trampoline only: 12 kg) |
Models
item 91000 Mats Tramp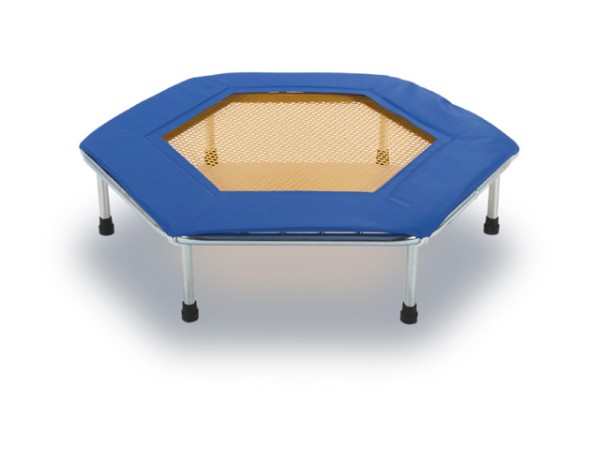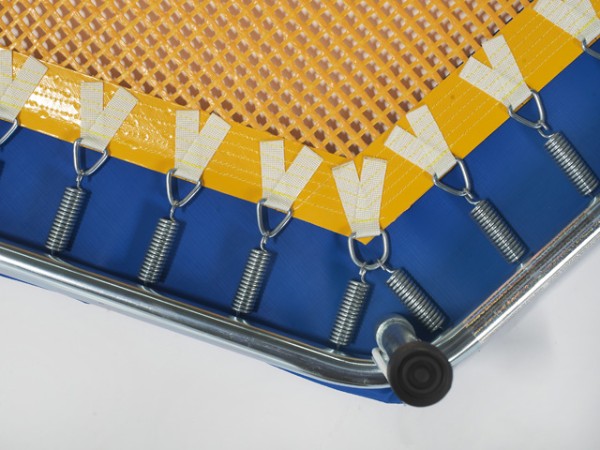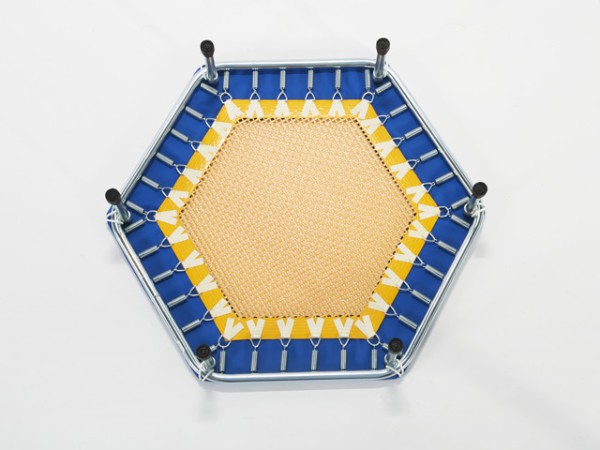 Trimm Tramp
Article No.: 83000 / 83500
Small, light and nevertheless very stable and robust. The Trimm Tramp is the smallest
trampoline made by Eurotramp and offers numerous application possibilities. It is excellently
suitable for therapeutic purposes such as movement therapy and rehabilitation. For private
use, it serves for physical activation, stress relief, weight reduction, strengthening of the entire
muscles, endurance training etc.
The Trimm Tramp is available in two different versions; the somewhat harder version
with steel springs or a more protective and softer version with rubber cable bracing
that is suitable particularly for children and older people.
"There is no better sports equipment having a more positive influence on the development
of the equilibrium function, the coordination ability and motor adaptability than this is given
by the direct application of the trampoline."
(Rheker 1993,139)
Product details
Spare parts
Downloads
Sales partners
Frame: Round tube (hexagonal) edge to edge 110 cm, made of special steel, 25 cm high; galvanized

Legs: Round tube made of special steel, removable (6 pc.); galvanized

Jumping bed (hexagonal) edge to edge 85 cm, made of PVC-coated synthetics

36 steel springs (length 85 mm, 20 mm); galvanized resp. rubber cable (Ø 11.4 mm)

Shock absorbing and stable frame pads

Total weight: 12.5 kg
Loading and storing dimensions: 112 x 102 x 6 cm (carton)
Models
item 83000 Trimm Tramp with steel springs, / B 13,000.-
item 83500 Trimm Tramp with rubber cable, / B 13,000.-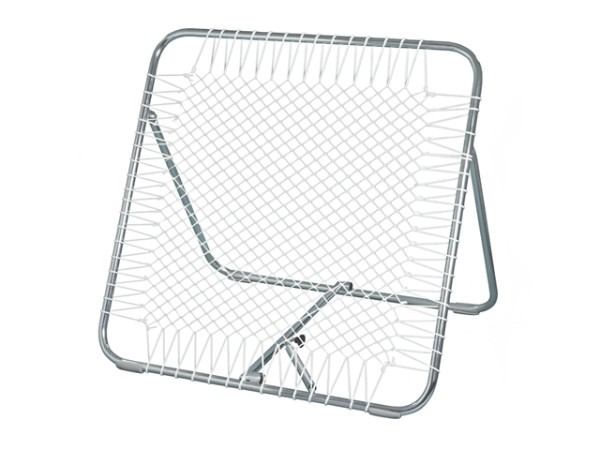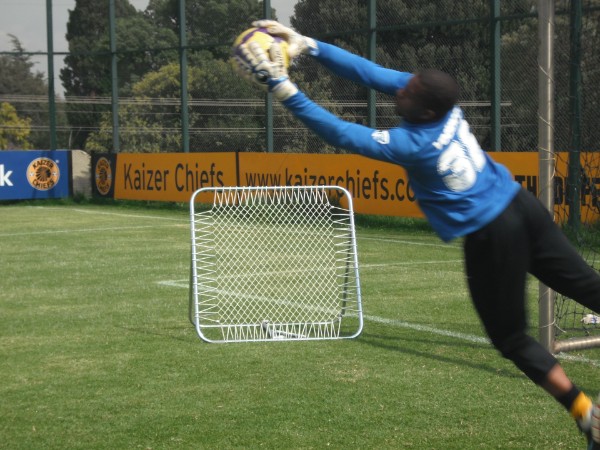 The Tschoukball is an extraordinary ball game apparatus for training and for leisure time, which accelerates a ball thrown into it and throws it back again. Therefore many ball sports can be trained effectively. Also for goalkeepers, the Tschoukball represents an optimal training aid. The Tschoukball is an amazing leisure time device for children and youth, with which ball handling and the motor capacities can be learned in a playing manner. By means of the foot support, the Tschoukball can be tilted from 55 to 65 degrees in order to obtain an individual rebound angle.

The stable frame is made of special galvanized steel tube. The attached floor pads
guarantee high stability of stand. The device can be erected and dismantled within
a few seconds and stored in a space-saving manner.
Product details
Spare parts
Downloads
Sales partners
Tschoukball 100:
Frame: Round tube 100 x 100 cm made of special steel; galvanized

Leg: Round tube made of special steel, adjustable in height (55°- 65°); galvanized

Net 80 x 80 cm made of synthetics

4 rubber cables (length each 300 cm, Ø 5,8 mm)

Total weight: 16 kg
Tschoukball 120:
Frame: Round tube 120x120 cm made of special steel; galvanized

Leg: Round tube made of special steel, adjustable in height (55°- 65°); galvanized

Net 100 x 100 cm made of synthetics

4 rubber cables (length each 380 cm, Ø 5,8 mm)

Total weight: 18 kg
Loading and storing dimensions Tschoukball 100: 102 x 112 x 6 cm (box)
Loading and storing dimensions Tschoukball 120: 130 x 130 x 10 cm (box)
Models
item 70000 Tschoukball 100, / B 19,400.-
item 72000 Tschoukball 120, / B 20,500.-