Special Needs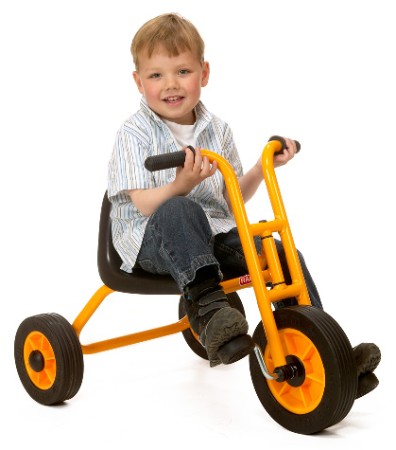 Description
The RABO Tricart 2000 is the pre-school's coolest tricycle. The well shaped seat and back rest appeals to children seeking a bit of extra speed.
The seat also provides the added support to a child with weak lower back strength. The seat and frame design allows for easy Velcro seat belt attachment for children with mobility challenges.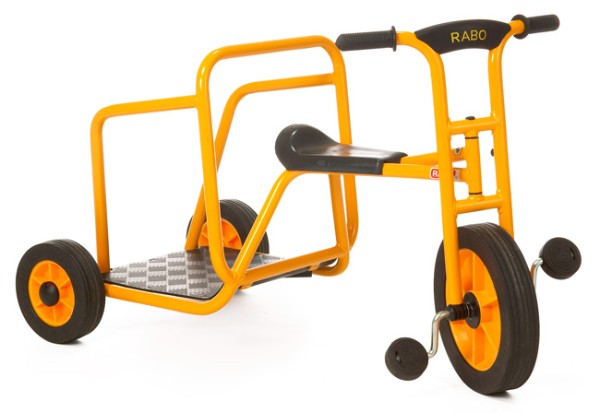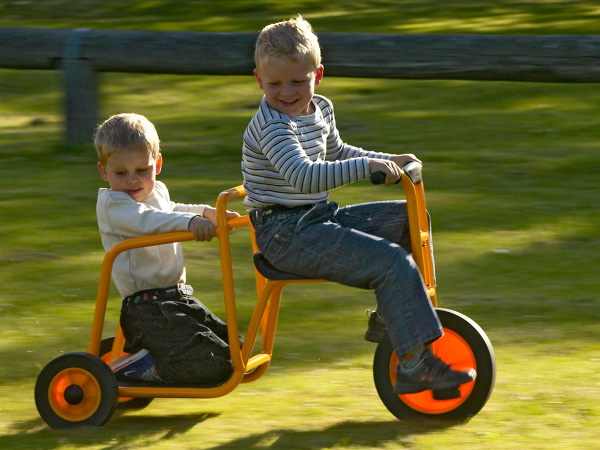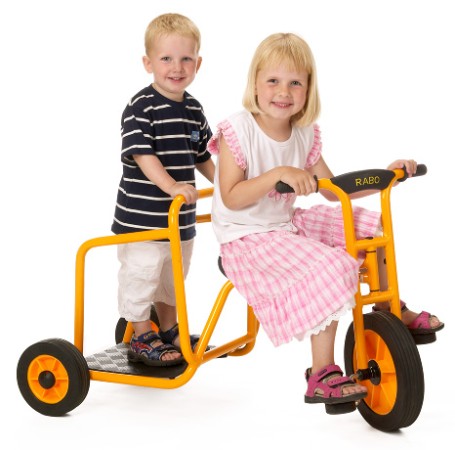 Description
A tricycle with great social and physical play potential, since it may be used by two children and offers a great variety for playing Ben Hur, race riding, playing bus; or just biking and having fun.
The two side and front bars in the rear section of the trike combined with the flat large surface can accomodate children with a variety of physical challenges integrating all children to take part in the playground's fun and movement.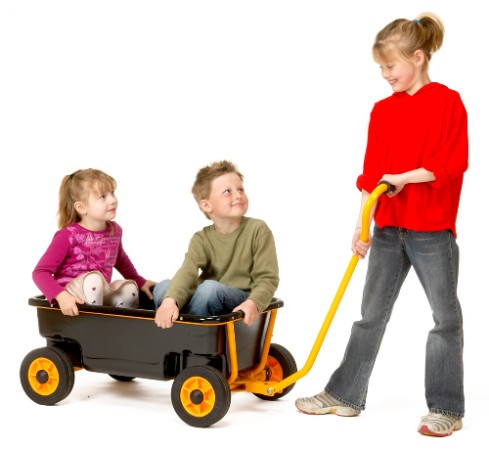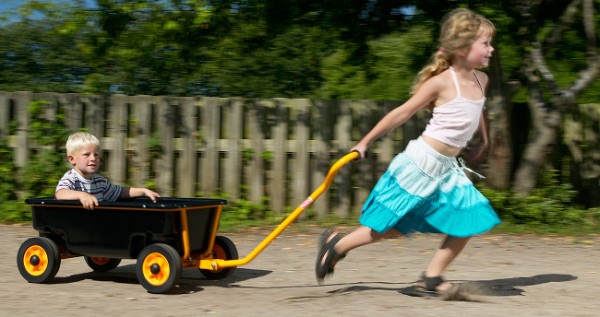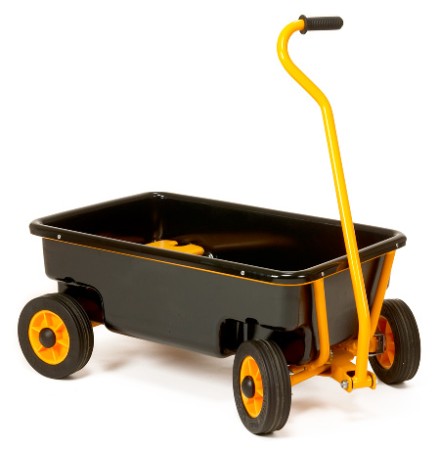 Description
The RABO Cart supports children's social, cooperative, language and physical development as it caters well to groups of children playing together.
A lorry, ferry, bus or boat the Cart is open ended as it design does not dictate any particular vehicle, but leaves it up to the child's imagination to decide.
The two interior seats are made from synthetic materials and are therefore easy to wipe off after a busy day in the playground. The seats can be removed for easier cleaning or to make room for more children.
The Cart is very stable and has space for 3-4 children, is extremely durable and practically impossible to break during normal use.
The Cart allows children with a variety of physical challenges to be seated or to lay inside the Cart when playing with a friend of caregiver.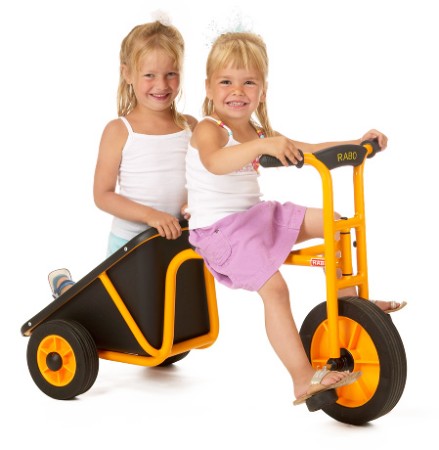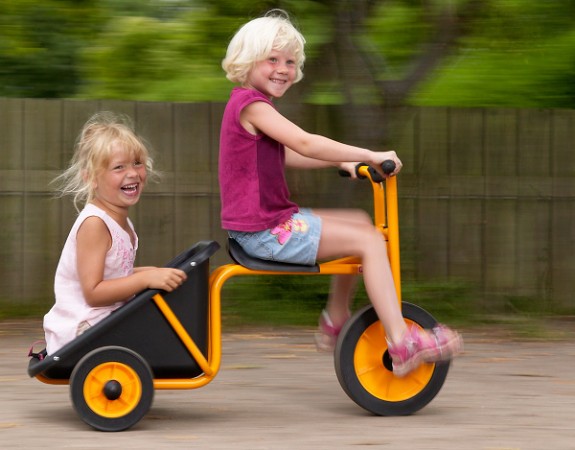 Description
This trike is a Heavy Goods Vehicle. It is a real kindergarten delivery vehicle, as it is always fun to transport things or friends around the playground.
The tall sides and open space in the goods section gives good support to a seated child, who has mobility challenges.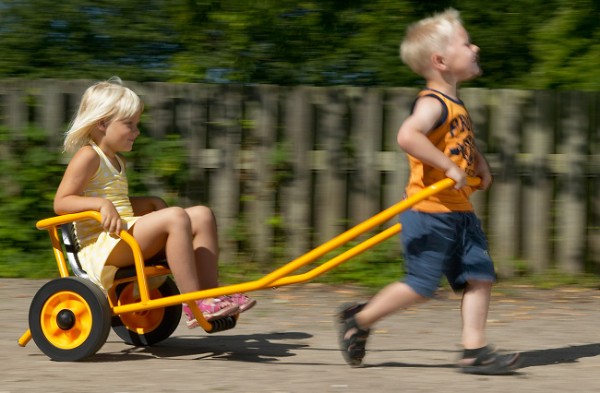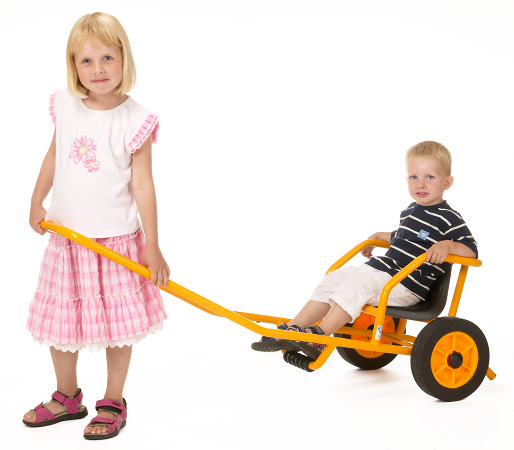 Description

The RABO Rickshaw represents the age old Asian vehicle that children recognize from movies, story books or trips. Loaded with a friend, goods or toys, only then will children's imagination determine the nature and destination of this vehicle.
With a friend seated it becomes highly social interactive and supports children's development around communication, cooperation and coordination.
The Rickshaw's seat and its enclosure cater well to children with physical disabilities.